courtesy pic
WHS V/JV GOLF
@ Andale @ Valley Center
Monday, September 28, 2020
JV GOLF @ Valley Center (MON 092820)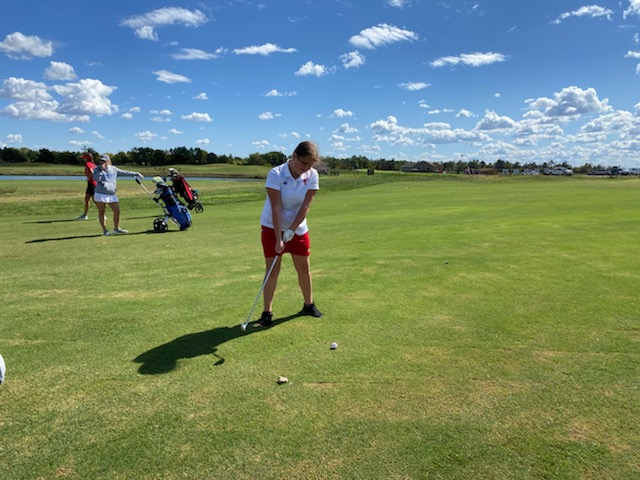 T5th Place – Evelyn Trafecanty 50
T7th Place – Aubrey Hunt 51
13th Place – Abi Gill 54
Nice Job Ladies!
VARSITY GOLF @ Andale Invitational (Cherry Oaks) (MON 092820)
Here are the results from the Andale Invitational at Cherry Oaks Golf course in Cheney on Monday. Our ladies performed well again placing 5th out of the 11 team tournament. This tournament was an excellent tune-up for our 4A Regional being hosted at Wellington Golf Club, 2 weeks from today.
Many of the teams WHS will compete against for a chance to go to State, were competing in Monday's tournament @ Cherry Oaks. The team once again led by senior Payton Ginter who fired a +10 over par 82 to finish third individually, two strokes behind tournament champion Lauren Specht of Buhler.  Other contributors to the Lady Crusader team score were Leanna Herring (103), Kasiah Richmond (107), Elly DeJarnett (108) and Laney Dillon (109). The ladies will compete for the AVCTL championship next Tuesday at Quail Ridge Golf course in Winfield.
TEAM RESULTS
Andover 354
Buhler 367
Cheney 386
Andale 394
Wellington 400
Circle 401
Salina-Central 423
Goddard 463
Medicine Lodge 466
Mulvane 468
Augusta 470
INDIVIDUAL RESULTS
3rd Payton Ginter 82
21st Leanna Herring 103
25th Kasiah Richmond 107
26th Elly DeJarnett 108
T27th Laney Dillon 109
*********************