It's been a busy week thus far as we head into Thursday, Friday & Saturday sports action. Here's what's happened, here's what's coming up!
WHS JV Tennis Girls Finish 1st Monday @ Home Meet!
The JV team hosted a meet on Monday and had some very good performances.  The Wellington Red team won the tournament with 30 points, ahead of Goddard Eisenhower with 27.  Circle finished 3rd, Derby 4th, and Wellington White was 5th.
#1 Singles Airalyn Frame went 2-1 in a tough singles pool and finished 2nd.
#2 Singles Kendall Janzen went 2-1 to finish 2nd also.
#1 Doubles Crystal Ramirez and Jordyn Brown went 4-0 good for 1st place, the pair played very well.
#2 Doubles Alyra Koerner and Abby Mraz also finished 4-0 good for 1st place.
#2 Doubles of Thalia Garcia and Avery Yonash went 1-3 just missing out on a medal in the top 3.
/x/x/x/x/x/x/
Crusader Volleyball Host Collegiate!
Our Lady Crusaders hosted COLLEGIATE Tuesday evening after previously scheduled to play at Winfield. (Covid related cancellation) Here are the results and pics from both Jr. Varsity and Varsity action.
JV
Wellington over Collegiate
25-11
25-21
V 
Collegiate over Wellington, best of 5 sets since it was a dual
25-23
25-19
25-18
/x/x/x/x/x/x/
Varsity Girls Tennis Brings Home GOLD From Collegiate!
Coach Aufty reports:
Wellington traveled to Collegiate yesterday and competed in an 8 team invitational and finished 1st overall as a team. All 4 players won their first round matches which guaranteed them top 4 places.
#1 Singles Ashlyn Gerten was in a top loaded field, she won her first match, then ran into the state runnerup in 5A and the 4th place finisher in 5A. Gerten finished 4th.
#2 Singles Olivia Brand ended up getting the top seed and lived up to it winning all 3 matches for 1st place.
#1 Doubles Rylee Rusk & Calli Hatfield won their first two matches easily, then ran into a pretty good Collegiate team in the finals and lost 6-8 to finish 2nd.
#2 Doubles Jensen Lynnes & Lyric Cornejo got the #2 seed and struggled through their first match but won over Goddard, then beat a Kapaun team in the semi finals, before losing to the #1 seed from Salina Central, to finish 2nd.
Awesome, awesome performances Ladies!! Congratulations to you and your coaches!! GO BIG RED!!
/x/x/x/x/x/x/
Varsity / JV Girls Golf Shine @ 2 Different Venues Tuesday!
Lots of GIRLS GOLF action with outstanding outcomes took place on Tuesday! (courtesy pics)
At Hesston, the WHS JV squad fared well – Aubrey Hunt finished FIRST, 1 stroke ahead of her nearest competitor in the 37 player field, firing a 50 for the event. Awesome job Aubrey – congratulations on your fantastic play! Also at Hesston: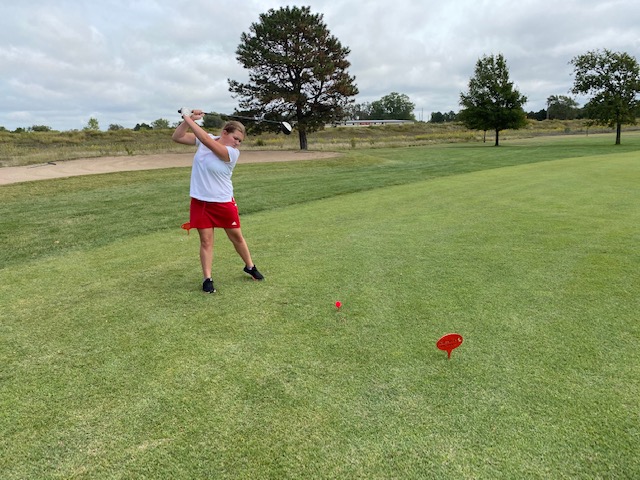 Evelyn Trafecanty who finished 19th with a 62.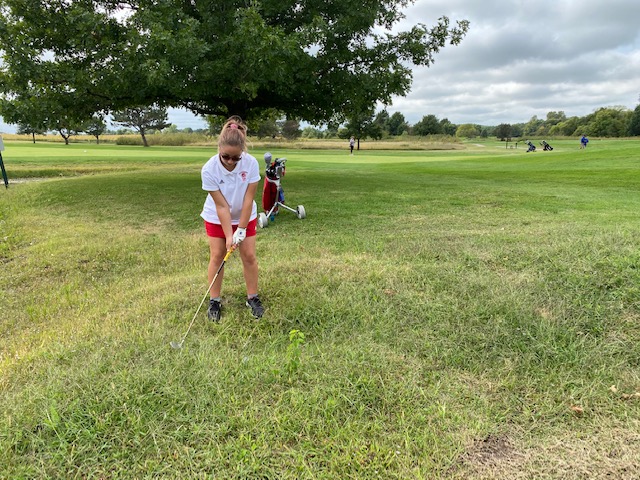 *******
The Varsity squad was in action at the Winfield Girls Invitational – big congrats go out to WHS Senior Payton Ginter who secured a 1st place finish in the 36 player field. Coach Ginter filed this report:
The Wellington Lady Crusaders golf team finished fourth Tuesday at the Winfield invitational tournament hosted by the Winfield country club. The team finished three strokes out of a third-place medal. Another nice showing by the ladies, finishing top four for the fourth time out of five tournaments this year.
Medaling as a team in two of those tournaments. Senior Payton Ginter had another fantastic day, finishing as the overall winner of the tournament with an 84, winning by four strokes over second place. This marks her third first place finish in her last four tournaments and her second overall win of the season.
This team continues to improve as the season progresses. With only two regular season tournaments left before league and regionals, these young ladies are playing their best golf at just the right time.
Congratulations to all!!
1st  Payton Ginter 84
18th  Leanna Herring 113
23rd  Elly DeJarnett 117
25th  Laney Dillon 122